With models, singers, and footballers' wives and girlfriends, we've broken the Derby della Madonnina down to see which side is the most attractive off the field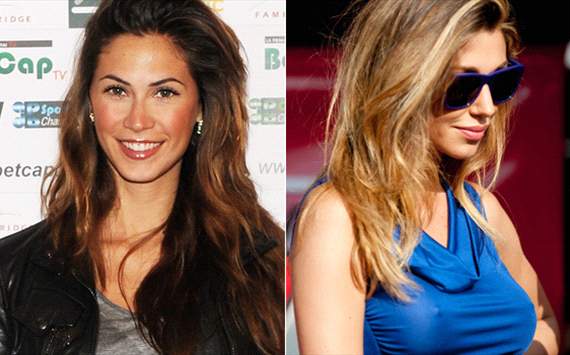 The Milan derby is certainly a serious event, and there have been a multitude of angles studied in the last week in the build-up to Sunday evening's big game. From the Tevez tug-of-war to the form guide, every possible angle has been discussed in regards to the meeting between AC Milan and Inter. Except one.

The two Milanese sides have perhaps the most notable array of female fans in football, especially when it comes to their celebrity followers. So for each side, we have chosen 11 representatives in the battle of the sexy fans, including girls from the world of showbiz as well as many of those who get to go home with the players after the match.
We've even set the two opposing teams up into a 4-3-1-2 formation. But which squad is more to your taste?



Marika

FRUSCIO
Showgirl




Debora

SALVALAGGIO
Showgirl




Federica

FONTANA
Showgirl




Nena

RISTIC
Model




Valentina

LIGUORI
Mrs Zambrotta




Michela

QUATTROCIOCCHE
Actress
Mrs Aquilani



Juliana

MOREIRA
Showgirl



Renata

TEXEIRA
Showgirl




Melissa

SATTA
Showgirl
Mrs Boateng



Helene

SEGER
Mrs Ibrahimovic




Barbara

BERLUSCONI
Milan director
Mrs Pato



Susana

WERNER
Ex-footballer
Mrs Julio Cesar




Katy

PERRY
Singer




Elenoire

CASALEGNO
Showgirl




Luisa

CORNA
Singer




Adelina

ELISEI
Showgirl
Mrs Chivu




Elisabetta

CANALIS
Showgirl



Nina

MORIC
Showgirl



Melita

TONIOLO
Showgirl



Yolanthe

CABAU
Showgirl
Mrs Sneijder



Belen

RODRIGUEZ
Showgirl



Natalie

WEBER
Showgirl
Mrs Zarate