The Wales international has been recognised for an impressive 2011, while Barcelona and Real Madrid dominate the selections with five and three nominations apiece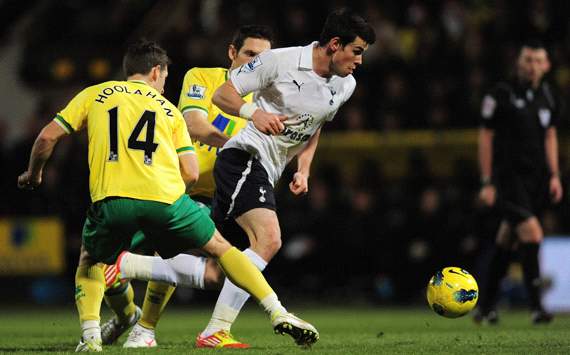 The Wales international winger has been recognised for his impressive form after European football's governing body had asked readers of its official website to vote for the best players of the calendar year 2011.
Over 4.5 million votes were cast, with eight of the 11 places filled by representatives from the Spanish giants.
Bale becomes the first Spurs player to be included in the site's Team of the Year, which has been compiled each year since 2001, as well as the first Welshman.
The former Southampton youngster has scored 11 goals in 28 appearances across all competitions so far this season as he aims to fire Harry Redknapp's side towards the Premier League title, and enjoyed an impressive Champions League campaign last term.
"It's great to be recognised in such illustrious company, and the fact that it's voted for by fans across Europe makes it a special honour," Bale said of his nomination on Tottenham's official website.
"But as I've said all along, I'm part of a team here at Spurs and any recognition I receive is down to my team-mates as much as anything that I do individually.
"The team has been playing really well and we've all played a part in that."
Lionel Messi led the way for Barcelona as they saw five of their side included in the list, with Dani Alves, Gerard Pique, Xavi and Andres Iniesta also selected and Pep Guardiola also recognised as the best coach of the year.
Real Madrid star Cristiano Ronaldo was voted to partner the Argentine in the side's hypothetical forward line, with team-mates Marcelo and Iker Casillas also featuring, while Bayern Munich's Arjen Robben and AC Milan's Thiago Silva take the final places in the line-up.
Uefa.com users' Team of the Year 2011 in full:
Iker Casillas (Real Madrid);
Dani Alves (Barcelona), Gerard Pique (Barcelona), Thiago Silva (AC Milan), Marcelo (Real Madrid);
Arjen Robben (Bayern Munich), Xavi (Barcelona), Iniesta (Barcelona), Gareth Bale (Tottenham);
Lionel Messi (Barcelona), Cristiano Ronaldo (Real Madrid)