The Red Devils frontman has claimed he is still fully committed to the club, as a joint statement denying reports that the 26-year-old's future lies elsewhere is released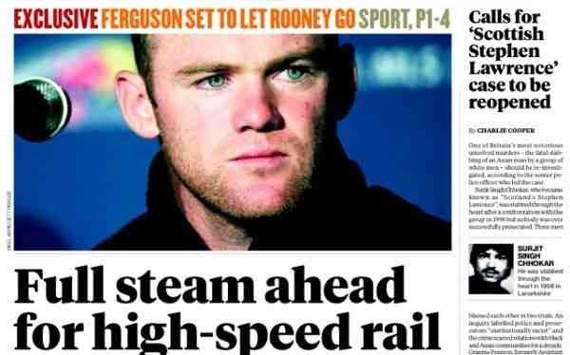 Manchester United
and
Wayne Rooney
have issued a joint statement denying a newspaper report which claims the England striker is set to leave the club.
The Independent
are to release a front-page story and four-page spread on Saturday which claims manager Sir Alex Ferguson is ready to let his player leave the club, although full details on the contents of the report are not yet known.
Rooney moved to deny the story on Twitter, writing: "The Independent are talking absolute rubbish. My future is with Manchester United - the club and I are totally committed to each other.
"The manager and I have no issues and anyone who says different doesn't know what they are talking about."
Before the newspaper report has been published, United have acted quickly to dismiss the speculation and insist their player is not on his way out of the club. They released a joint statement alongside Rooney's managerial group on their official website.
The statement read: "Manchester United and Wayne Rooney have been made aware of the theme of an article in tomorrow's Independent newspaper.
"We have not seen the detail but can assure all United fans that the Manager and the Club are committed to Wayne Rooney and Wayne is committed to the Manager and the Club.
"The player and the Manager have always had and retain, the utmost respect for each other and look forward to working together in the coming seasons.
"Any suggestion that Manchester United and Wayne Rooney are to part company is complete nonsense."
Rooney was involved in an infamous transfer saga last year, which resulted in him eventually signing a long-term contract after a public war of words with the club, where he questioned their ambition in the transfer market and handed in a request to leave.
United are in action against fierce rivals Manchester City in the FA Cup on Sunday and all eyes will be on Rooney after this latest dramatic turn of events.
The striker's wife, Coleen Rooney, responded to the report via Twitter, saying: "...... No wonder there is a major enquiry regarding the press when you see the rubbish they put on there [sic] front pages!!!
"Haha!! Rumours, rumours, rumours!! And newspapers up to there same old tricks! Chatting  as usual! Get better sources, ur wasting ur £££'s."