The Frenchman has reached a milestone in his tenure as the Gunners' longest-serving - and most successful - boss and we recall some of his peaks and troughs in an eventful era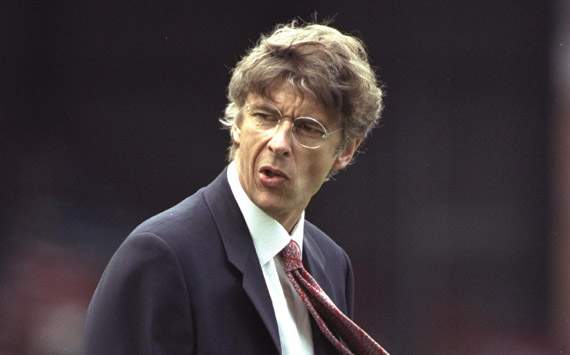 During his 15 years in north London as the manager of Arsenal, Arsene Wenger has experienced a broad spectrum of reactions from English football's fans and media. Initially it was suspicion when 'Arsene Who?' - a little known and rather cerebral Frenchman - who was appointed manager of Arsenal on September 30, 1996. Then it became admiration and a hint of adulation as the visionary record-breaker and three-times winner of the Premier LeagueManager of the Year award repeatedly unearthed raw talents and polished them into gems while his team piled up silverware playing an exhilarating brand of football.

More recently it has been impatience, criticism and even derision, with Wenger perceived as a victim of the combined effects of player power, a frustratingly tight fiscal policy at the Emirates and his own apparent stubbornness.

'Le Boss' recently said he wants "another 14 years" at Arsenal; if he gets his wish he'll want them to be less painful than the last couple of seasons. Yet however the future pans out, his legacy is assured: no other Arsenal manager has served as long (Wednesday's Champions League clash with Olympiakos was his 856th match in charge), won so many trophies (three titles and four FA Cups) or maintained the club's position so consistently (15 successive top-four finishes; 14 consecutive appearances in the Champions League).

We reflect on his 15 years at the helm by charting 15 of Wenger's high-points and 15 of his lows - starting with the ones he'd probably rather forget...

1. Losing 1-6 to Manchester United at Old Trafford on February 25 2001 at a time when the rivalry with Sir Alex Ferguson was still at its height, and having the lunacy of assuming Igors Stepanovs might be a Premier League player so ruthlessly exposed.

2. Losing 2-8 to Manchester United at Old Trafford in August 2011 and confirming to the world not only that a chasm had opened between the two clubs but also that the chickens of his transfer market prevarication had truly come home to roost.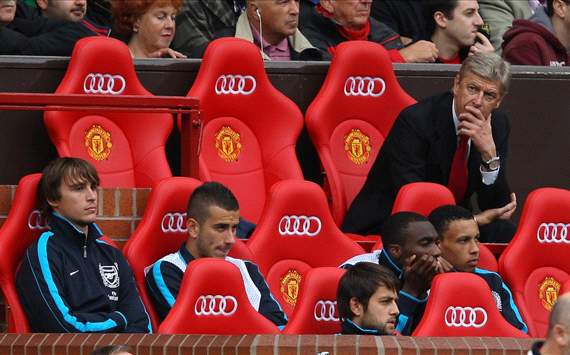 No defence | Arsene wonders how he ever let it get this bad


3. Surrendering a two-goal lead at Bolton on April 26 2003 to hand Manchester United the advantage in the title race; the 2-2 draw was the moment Arsenal effectively lost their previously secure grip on a second successive championship - which would have made Wenger the first Arsenal manager since Herbert Chapman to retain the title (though Chapman died midway through the second season, 1933-34).

4. Seeing Arsenal's record 49-match unbeaten run ended in controversial circumstances on October 24 2004, when referee Mike Riley awarded United's eighth penalty in his eighth Old Trafford visit (a decidedly dubious decision in Wayne Rooney's favour v Sol Campbell), then refused Arsenal one against Rio Ferdinand, and took no action against Ruud van Nistelrooy's foul on Ashley Cole. At least Wenger didn't see the pizza and soup subsequently flying in the corridors afterwards.

5. Losing the wise counsel of his staunchest ally in the corridors of power, David Dein.

6. Being forced to lose Ashley Cole, the best left-back in the country, because of the player's greed and Chelsea's illegal deviousness, a transfer which arguably precipitated Arsenal's current, as yet unaddressed defensive woes.

7. Being subjected to a sordid, malicious and unsubstantiated campaign of whispers about his private life, which originated in the more tawdry tabloids as soon as he arrived in England.

8. The 2-2 draw at St Andrew's on February 23 2008 - victory would have put leaders Arsenal eight points clear in the title race, but after Eduardo suffered a compound fracture of his left leg in a red-card tackle by Martin Taylor, the wheels came off Wenger's season. Birmingham were gifted a stoppage-time equaliser thanks to another harsh penalty decision, William Gallas threw a ludicrous wobbly on the pitch and Chelsea and Manchester United spied their opportunity and went on to seize it, leaving Arsenal third at the end of the season.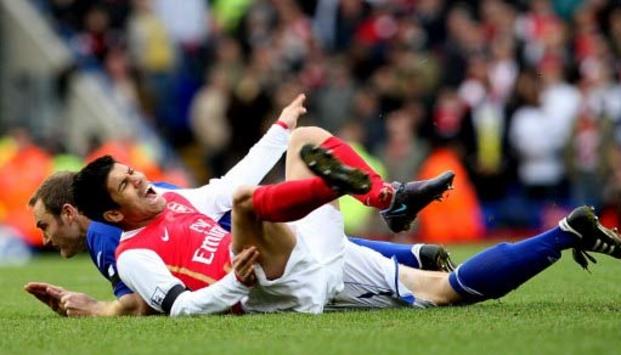 Agonising | Eduardo, and Arsenal's season, are left broken at Birmingham


9. Dominating the 2001 FA Cup Final only to see the inspired Michael Owen snatch the Cup for Liverpool with two sensational goals in the closing minutes.

10. Surrendering the lead (on the night and on aggregate) in the Champions League quarter-final against Chelsea at Highbury on April 6 2004; that team that season arguably represented Arsenal's best chance to date of finally winning the European crown; to add insult to injury the 2-1 defeat was Chelsea's first win over Arsenal in any competition in 18 attempts.

11. Being reduced to 10 men early on in the 2006 Champions League final against Frank Rijkaard's Barcelona, with Jens Lehmann sent off and Robert Pires sacrificed for substitute Manuel Almunia, creating a numerical disadvantage and forcing a tactical change that eventually told in Barca's favour.

12. Seeing his team fail to justify their billing as favourites in the 2011 League Cup final against Birmingham, and compounding their inability to finish off their opponents by gifting them a late winner with some Keystone Kops defending.

13. Being forced by the two players' ambition - and Arsenal's policy on wages - to sell Cesc Fabregas and Samir Nasri, his two most creative players, in the summer of 2011, and being unable or unwilling because of financial constraints to replace them with midfielders of similar calibre or potential.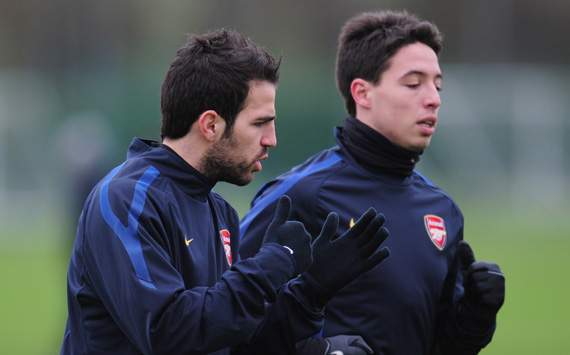 The Departed | Fabregas and Nasri left Wenger with a credibility gap


14. Dominating the 2000 Uefa Cup final v Galatasaray but failing to score, then losing the consequent penalty shoot-out amid carnage between rival fans on the streets of Copenhagen.

15. Repeatedly being confronted by his current team's propensity to throw away a lead. The more painful occasions include seeing them squander a 2-0 advantage against Spurs last season to suffer the first home defeat of his reign against their arch-rivals; watching them lose the lead twice at Ewood Park this month and being roundly ridiculed for his defenders' open-door policy as two own-goals made Blackburn's task so much easier; and - least forgivably - throwing away a 4-0 lead at Newcastle in February on the same day that title rivals (and eventual champions) Manchester United lost 2-1 to Wolves. Given that a win would have taken the Gunners to within two points of United and three ahead of Manchester City, that was possibly the ultimate example of his players' frailties.




1. Ensuring that Patrick Vieira, hitherto unknown in England, was already on board at Highbury by the time Wenger arrived from Japan to begin his 15-year tenure.

2. Having the sense (and humility) to acknowledge the calibre of the defence he inherited from George Graham (via Bruce Rioch) and keeping it in place while helping its members prolong their careers at the top by introducing them to novel dietary and exercise regimes.

3. Turning the negative of having Nicolas Anelka's money-obsessed brothers/agents engineer the striker's premature departure from Highbury into a resounding positive - not only by securing £23m from Real Madrid for him, but more importantly by using some of the cash and all of the opportunity to bring Thierry Henry in from the chilly wings at Juventus and converting him into the world's best striker.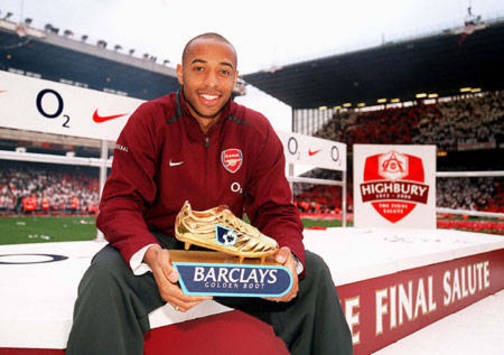 Henry the first | Wenger converted him into Arsenal's all-time top scorer


4. Becoming the first foreign manager to win the English top-flight and embellishing that by adding the FA Cup as Arsenal secured the double in 1997-98, Wenger's first full season managing Arsenal.

5. Repeating the feat in 2001-02.

6. Proving his words were not empty rhetoric, despite having been pilloried for saying his team could go a season unbeaten, by leading them to the record-breaking 'Invincible' season of 2003-04.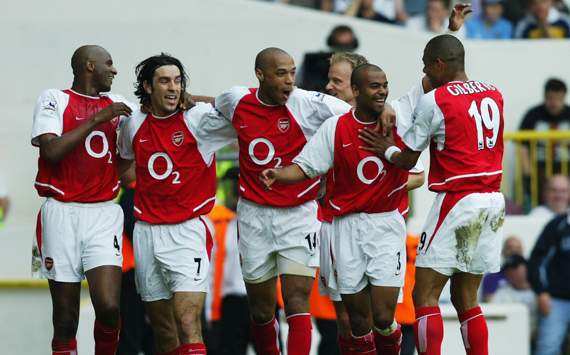 Unbeatable | Wenger's team scaled unprecedented heights in 2003-04


7. Having the foresight to respond to the impressive Marc Overmars' desire to join Barcelona in 2000 by signing Robert Pires from Marseille and seeing him become another Arsenal legend, dovetailing to devastating effect with Cole and Henry on the left, scoring 84 goals for the club himself and being voted Footballer of the Year.



8.

Developing the attacking, passing game that transformed Arsenal's image from perceived bores to English football's great entertainers, and lifting seven major trophies along the way.

9. Having the vision to conceive Arsenal's state-of-the-art training facility and later playing a highly influential role in the design of their new stadium once it became clear the club would have to leave Highbury.

10. Throwing the title race wide open by winning 1-0 at Old Trafford on March 14 1998 thanks to an Overmars goal. The victory took Arsenal to within six points of leaders Manchester United with three games in hand, and the Gunners went on to complete a run of 10 straight wins culminating in Tony Adams lifting the championship trophy.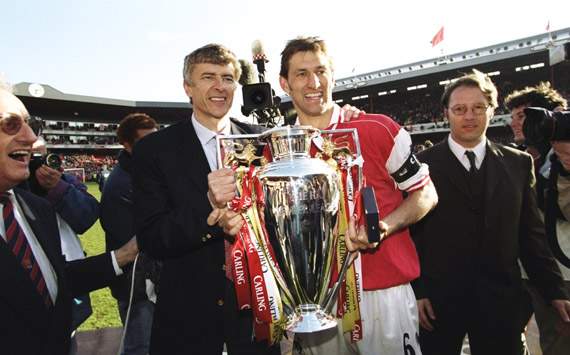 First title | Skipper Tony Adams lifted the trophy in Arsene Wenger's first full season

11. Winning 1-0 at Old Trafford on May 8 2002 to clinch the title, four days after beating Chelsea 2-0 in Cardiff to lift the FA Cup. The victory over United ensured Arsenal completed the 2001-02 season unbeaten away from home, and was also their 12th in a sequence of 13 straight wins, part of a 21-match unbeaten run stretching back to December.

12. Overhauling Nottingham Forest's 42-match unbeaten League run and extending it to a new record of 49 matches between May 2003 and October 2004.

13. Masterminding two resounding victories at Anfield in the space of four days in January 2007 - beating Liverpool 3-1 in the FA Cup on January 6, then thrashing them 6-3 in the League Cup on January 9 with a supposedly weakened team.



14.

Thrashing Inter 5-1 at San Siro in a Champions League group game on November 25 2003, then completing the set on March 4 2008 by beating AC Milan 2-0 at the same stadium in a first knock-out round tie.

15. Beating Barcelona 2-1 at the Emirates in February against all the odds in the most pulsating atmosphere the new stadium has so far witnessed.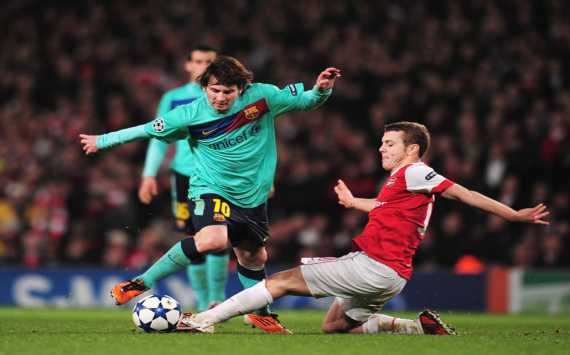 Boy wonder | Wenger discovery Wilshere excelled against Messi & co.